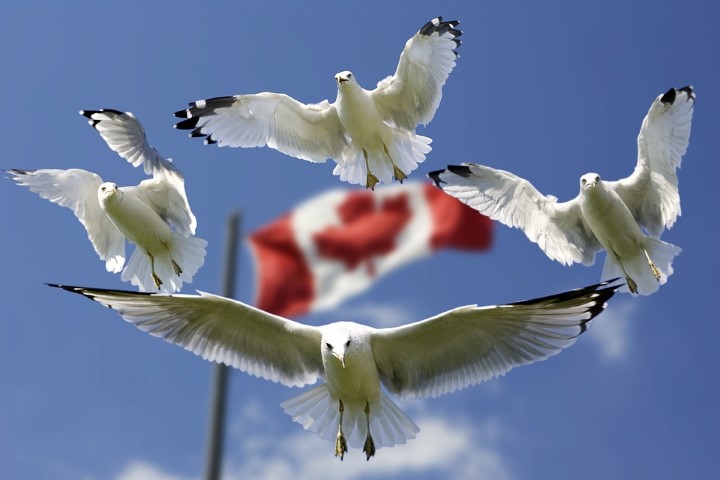 It's looking like a busy Canada Day for people in the River Valley. Here is the schedule of events for various communities:
Woodstock
Canada Day gets under way with the Kids of Steel Triathlon in Connell Park. Bicycle inspection runs from 8:30 to 9:30 am at the Ayr Motor Centre parking lot, and the race starts at 10 am in the parking lot. The swim will be in the Ayr Motor Centre pool, while the bicycle race will follow Elizabeth Street, Helen Street and Creighton Street. The run will be on the trail beside Connell Park Road. The triathlon is open to anyone aged five to 15. Visit the Ayr Motor Centre or call 325-4671 to register. The cost is $10 for individuals and $20 for a family of two or more participants. Registration includes participation in the swim, bike and running race, a T-shirt, medal and lunch, as well as refreshments after the race. There will also be door prizes at the triathlon, including a chance to win a new bicycle donated by retailer Canadian Tire.
The Woodstock Farm and Craft Market will be open a full 12 hours from 10 am to 10 pm. Sarah and Len Sherman from Sarah's Good Ol' Country Cookin' and the Golden Unicorn Farm in Fosterville will be serving organic popcorn, ice cream, pizza and strawberry shortcake at the market cafe.
Royal Canadian Legion Branch 11 will host a children's parade starting at 11:30 am at the gazebo on the King Street waterfront and run along King Street and up Carleton Street to the legion building. The theme is "Kids Are Our Future," so children are encouraged to come dressed as whatever they want to be when they grow up. A flag raising will be held at noon outside the legion, and there will be a talent show and other children's activities at the legion from 12 to 4 pm. Hot dogs, burgers and pop will also be available for sale.
The annual cake cutting is 1 pm in Connell Park, while the kite festival will be from 1:30 to 3 pm at Ryan Taylor Memorial Field. The kite festival is sponsored by Big Brothers-Big Sisters of Carleton-York. Yoga will be offered in the park from 2 to 3 pm, while face painting will be available from 2 to 4 pm.
Yogi Bear's Jellystone Park Camp Resort hosts a Wet 'N Wild Dance Party from 7 to 10 pm as the popular Woodstock campground opens its new Water Wizard Water Zone attraction.
The Woodstock downtown waterfront hosts the Parade of Lights at 9:30 pm and fireworks display at 10:30 pm.
Hartland
8:30-11:30 am Mini Olympics
11:30 am BBQ and awards ceremony
1-4 pm Children's games such as mini putt, a bouncy castle, balloon games and pickle ball at the Hartland Community Arena. Other activities include face painting, a slip and slide, washer toss, water balloon dodgeball and frisbee tic tac toe, along with a free pool party, tie dye and a barbecue.
1:30 pm Softball at the Glass Memorial Field across from the arena
2:30 pm Home run challenge, cost is $5 and whoever hits the most home runs gets to take home half of the proceeds.
Florenceville-Bristol
7-10 am Kinsmen's breakfast at the Florenceville Community Hall
11:30 am Official ceremonies and cake cutting at the Northern Carleton Civic Centre
11 am – 2 pm Food vendors
12-4 pm Face painting, a free public swim, inflatable games, pedal karts and go karts
1-4 pm Outdoor concert
1:15-3 pm Perley the Magician
4 pm Parade (route starts at Florenceville Middle School on Main Street and ends at the town office on Station Street)
5 pm Chicken BBQ at Florenceville Kin Club
5-9:30 pm Free public swim (glow swim 8- 9:30 pm)
7-8:30 pm Musical entertainment with the Wednesday Evening Fiddlers
10:15 pm Fireworks (rain date Saturday, July 2nd)
Canterbury
The theme of Canterbury's annual Canada Day parade is "Cartoon Land". Participants are encouraged to prepare their best cartoon floats and costumes. The parade starts at noon, with line-up beginning at 11 am at the Department of Transportation and Infrastructure maintenance depot at the edge of the village. The parade will be followed by games at the Canterbury Community Centre on Mill Street until 4 pm. Bingo at 2 pm inside the community centre.
A bean and salad supper will be held at the Canterbury United Church from 4:30 to 6 pm. The cost is $8 per adult and $6 for children under the age of 10.
A comedy show happens at 7 pm at the community centre, and a bonfire starts around 8 pm. Cake, punch, tea and coffee will be served. There may be games for children and those who are kids at heart to play before the fireworks display at dusk.
Nackawic
A Canada Day BBQ for Festival on the Bend will take place at 6:30 pm on Friday, July 1st in Nackawic. The Great Canadian Scrabble Race kids activity is set for 6:45 to 7:45 pm. The opening ceremonies and cake cutting run from 8 to 8:30 pm. Local band Flat Top will perform starting at 8:30 pm, and a fireworks display by Sky Designs will wrap up the festivities at 10:30 pm. All festivities will be held on the town's waterfront, but if it's raining, they will take place in the Nackawic Arena.
Centreville
Canada Day festivities in Centreville will coincide with the village's 50th anniversary celebrations happening all week. On Friday, July 1st, a 50th anniversary homecoming supper will take place at 5 pm at Centreville Community School. Local band WiseCracker will entertain in an outdoor concert from 8 pm until midnight at Burtt Street Park. Anyone looking to attend the dance at the concert must be aged 19 or older.