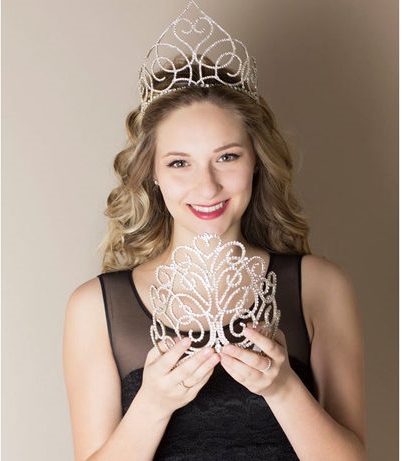 Miss Grand Falls, Marielle Ouelette was crowned Miss New Brunswick as well as Miss Congeniality at the 61st annual pageant Tuesday night at the Ayr Motor Centre in Woodstock. First Princess went to Miss Hartland, Sydney brown while Second Princess went to Miss Harvey, Alysha Cole. Miss Perth Andover, Mallory Parsons received Miss Talent.
About the Miss New Brunswick Pageant
Beauty contests have been held every year, but have under gone many changes. The first few years saw mainly a fashion show with a few entrants competing for the title of "Miss Upper Saint John River Valley." In 1955, a local firm donated a large trophy to the Old Home Week Commission with the understanding that the Beauty Contest would become the Miss New Brunswick Beauty Pageant, and the trophy would be awarded annually to the winner. This new venture was a great success, and Miss Marion Corey had the honour of being the first "Miss New Brunswick." The pageant continued in this manner until 1969 when it was incorporated.
In 1997, Sandra Hudson took over as Co-ordinator and the pageant experienced some change. The word "beauty" was dropped from the title as the pageant now focuses more on the contestants' personality, intellect, poise, and talents.
Former Miss New Brunswick title holders:
1995 Marion Corey Southampton
1956 Yvonne Smith Fredericton
1957 Gertrude Bedell Moncton
1958 Carolyn Cain Centreville
1959 Beatrice Hoffer Fredericton
1960 Connie Owens Saint John
1961 Mary-Ellen Randall Woodstock
1962 Linda Jarvis Canterbury
1963 Sandra Contois Perth-Andover
1964 Mary Chisholm Moncton
1965 Dorothy Larsen Woodstock
1966 Wanda Glass Bath
1967 Gail Barrett Waterville
1968 Frances Danson Sussex
1969 Bonita Nicolas Saint John
1970 Linda McAllister Fredericton
1971 Sharon Gorman Fredericton
1972 Mariette Cyr St. Andre
1973 Shirley McGuire Woodstock
1974 Terri-Ann Paul Woodstock
1975 Pamela Setzke Hampton
1976 Gail Knowles Bathurst
1977 Bonnie Floyd Campbellton
1978 Karen Sears Sackville
1979 Judy Vautour Minto
1980 Anne Daigle Grand Falls
1981 Suzanne Guitard Campbellton
1982 Linda Smith Sackville
1983 Deanna MacDonald Campbellton
1984 Brenda Durette Campbellton
1985 Cynthia MacCallum Moncton
1986 Buffy Wasson Ripples
1987 Lisa Beaupre St. Leonard
1988 Tammy Stevenson Fredericton
1989 Deanna Robinson Fredericton
1990 Cathy Cyr Edmundston
1991 April Beswarick Campbellton
1992 Karrie Les McCarthy Miramichi
1993 No Pageant was held
1994 Joanne Michaud Campbellton
1995 Renette Amirault Moncton
1996 Vanessa Boucher Bouctouche
1997 Julie Fraser Grand Falls
1998 Julie Price Chipman
1999 Alisha Kelly hartland
2000 Heather Harris hartland
2001 Melissa Wilson Pennfield
2002 Nicole Blaquiere Campbellton
2003 Robin Brewer Nackawic
2004 Jullian Nason Dalhousie
2005 Chelsea Fitzherbert Pert-Andover
2006 Brittany Shaw Hartland
2007 Jenna Culberson Woodstock
2008 Venessa Dupere Campbellton
2009 Heather Nichol Campbellton
2010 Mary Cameron Dalhousie
2011 Chelsea Grant Nackawic
2012 Kaitlynn Bragdon Nackawic
2013 Rachel Matheson St. George
2014 Emily Weaver Chipman
2015 Sara Betts Minto
For more information visit the Woodstock Old Home Week website.