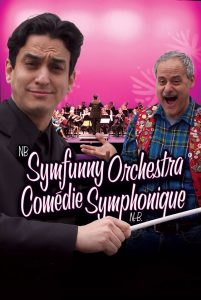 "The NB Symfunny Orchestra – Saturday, November 5th, 2016 "
Carleton North High School
30 School St, Florenceville-Bristol, NB E7L 2G2, Canada
7:30 pm – 9:30 pm
HubCap Comedy Festival & Tutta Musica are proud to present the hilarious musical comedy romp, The NB Symfunny Orchestra on November 5, 2016. New Brunswick tour stops include Moncton, Saint John, Fredericton, Bristol/Florenceville, Miramichi, Bathurst and Dalhousie.
This brand-new production of music and comedy combines the talents of Marshall Button (a.k.a. Lucien) writer of the show and Maestro Antonio Delgado (NBYO Music Director) the musical arranger. Button and Delgado are supported by a dynamic 32-piece orchestra comprised of the Teaching Artists of Sistema NB and the New Brunswick Youth Orchestra as well as a troupe of comedic actors including comedy veteran (and Moncton's Deputy Mayor) Blair Lawrence and musical theatre dynamo Mélanie LeBlanc who will provide for an unforgettable evening of great music and big belly laughs.
Come find out if the maestro of music can be as funny as the master of comedy, and see for yourself if the master of comedy can control a mass of musicians or simply leave them flailing in discord.
Tickets are $35.00 a person.