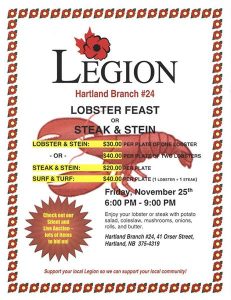 Come join in lots of fun, food and activity at the Hartland Legion on Friday, Nov 25.
As well as Week # 18 of Chase the Ace, we have the annual Lobster Feast, Steak & Stein and Auction (Live and Silent).
Chase ticket sales 4:30 p.m. – 6:00 p.m. – ticket draw at 6:30 p.m. $3,000 Guaranteed Jackpot (for the Ace of Spades). Official rules are posted on the Legion FB, profile.
Dinner and Auction 6:00 – 9:00 p.m.
Money raised from Chase the Ace supports the Hartland Legion and the new Arena building project (to date, the donation raised for the arena project is approx. $3700).
The jackpot has, once again, been graciously guaranteed by Connell Chrysler, Valley Honda, Valley Equipment, and Hartland Freshmart.
Spend a few hours socializing with your neighbours, family and friends, while supporting your community.