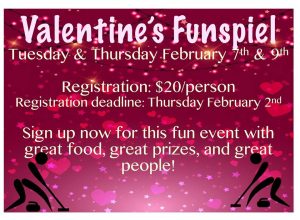 This *two night event* will be held on Tuesday February 7th – 6 end game at either 6:30PM or 8:00PM & Thursday February 9th – 4 end game with a twist at either 6:30PM or 7:30PM with great food, drink and prizes to follow!
Cost to register: $20/person.
Sign up with your sweetheart, or if your single this valentine's, we'll find you a teammate!
Maximum of 48 participants – first come, first serve basis.
Register quick, cause this great event will fill up fast!
Registration deadline: Thursday, February 2nd.
*If you are only able to play on one night, you can still sign up and we'll accommodate you.
Find more events like this one on the River Valley Community Calendar. Add your special event free of charge.