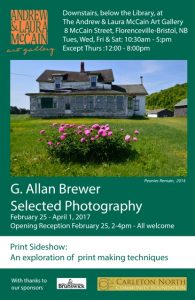 G. Allan Brewer Selected Photography Exhibit runs FEBRUARY 25 – APRIL 3 at the Andrew & Laura McCain Art Gallery in Florenceville – Bristol.
Join us in celebrating the opening reception of local artist G. Allan Brewer and his new exhibition of photographic prints. Please join the Gallery in welcoming G. Allan Brewer.
Captivated as he is by the purely formal colours, tones, shapes and textures he sees through his lens, G. Allan Brewer's photography also captures fleeting moments, pays homage to the passage of time and celebrates the natural beauty of the region.
The opening reception will be Saturday February 25 from 2-4 pm at the Andrew & Laura McCain Art Gallery. The artist will be present to give a brief discussion on his works.
All are welcome to attend.
For more information: mccainartgallery.com, call 506-392-6769 or see image for times and more.
Find more cultural events like this one on The River Valley Events calendar. If you have any special community events coming up you can always add your listing free of charge.