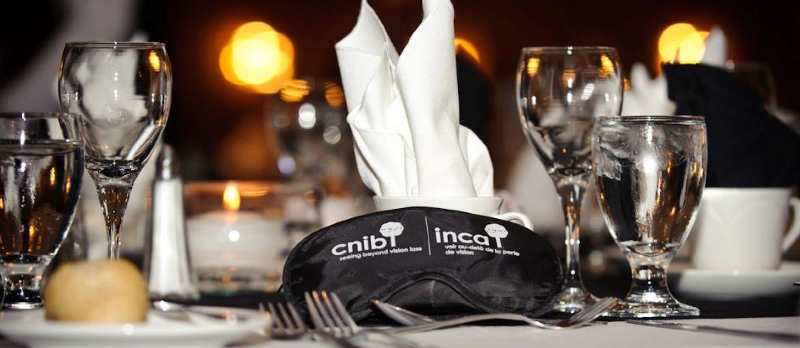 On Friday March 31st, 2017, the Canadian Institute of the Blind (CNIB) will host its inaugural Dining in the Dark event at the Best Western Plus Woodstock Hotel & Conference Centre, 123 Gallop Court, from 6 to 9 pm.
This will be an evening of exceptional food, inspiration and blindfolds.
It's not unusual to close your eyes and savour a bite of your favourite dish … but have you ever consumed an entire meal that way – replacing sight with touch, taste and texture?
Based on a restaurant concept popularised in Paris and New York, Dining in the Dark is a signature CNIB event where diners experience a meal without the use of their sight.
Participants wear blindfolds for a unique, sensory experience in which they can explore their meal in a whole new way.
The evening will include a three-course meal and, of course, blindfolds. Guests will have the chance to bid on extraordinary auction item prizes, and hear from inspiring individuals who will share their experiences living with vision loss.
Tickets are $65 each.
For more information or to reserve your seat or a table of eight today, please contact Donna Carson at 506-277-6717 or 506-391-6282 or donnajcarson@xplornet.ca.
Outlets for tickets:
Best Western Plus Woodstock Hotel & Conference Centre – 123 Gallop Street
Vanity Flair – 538 Main Street
Whispering Gardens Boutique – 124 Connell Street
Simply for Life – 101 Gallop Street
Hairraisers – 128 Gallop Street
Find more community fundraising events like this one in The River Valley Events Calendar.