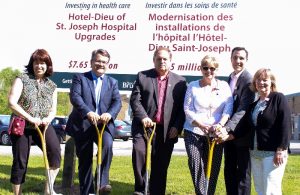 A sod-turning ceremony was held to mark the official beginning of a project to restore, preserve and protect critical infrastructure at the Hotel-Dieu of St. Joseph Hospital in Perth-Andover.
"Your government knows how important access to good-quality health care is to New Brunswickers," said Health Minister Victor Boudreau. "This project will ensure the Hotel-Dieu of St. Joseph Hospital can safely function and better help the people that rely on its services on a regular basis."
The project includes demolition of the flood-prone section of the hospital that has been condemned since 2012, as well as the construction and equipping of an essential services building on higher ground.
The new essential services building will:
minimize the risk of flooding of the utilities and evacuation, and minimize the risk of injury or death;
upgrade systems that had their life expectancy shortened by exposure to water, dampness and humidity; and
allow energy efficiencies with reduced travel distance for utilities and new mechanical piping.
The tender to construct the new essential services building, which will replace the condemned section of the hospital, has been awarded to Simpson Building Contractors Ltd. of Fredericton. The total cost of the project is estimated at $7.65 million. It is expected to be finished in early 2018.
Once the project is completed, the provincial government will seek to recover costs through Public Safety Canada's Disaster Financial Assistance Arrangements.
"Seeing this project move forward is very exciting," said Carleton-Victoria MLA Andrew Harvey. "Improving hospital infrastructure is a priority for our government, as we know the availability and delivery of health services has a significant impact on the quality of life of the people of our province."
Harvey attended for Transportation and Infrastructure Minister Bill Fraser.