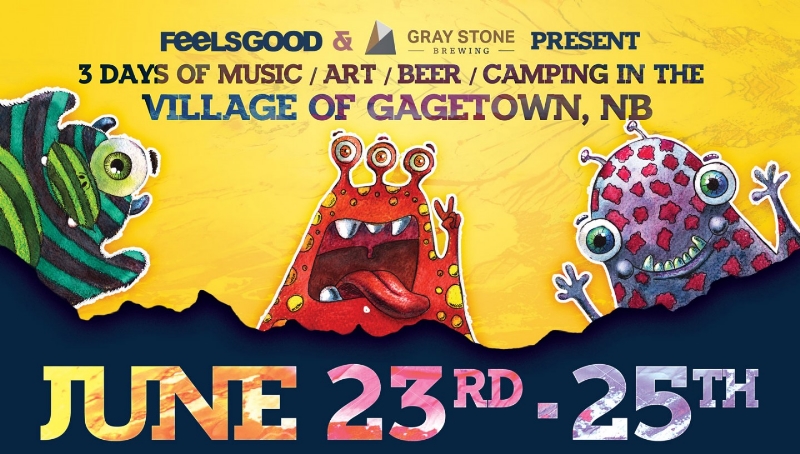 Come have some good, clean fun with us for the funkiest weekend of the jam packed summer festival season! Seriously, this year's edition of
Folly has more horns than you can shake a stick at! We are bringing in acts from all over Canada and as far away as Virginia and Isreal! Of
course folly is also known for supporting all things local with the best local musicians, artists, fire performers, food and arts vendors, local
veggies and this year featuring delicious craft bevvies from Graystone Brewing and York County Cider! Over 60 acts on 5 stages, silent disco,
live art, kids zone, workshops, swimming hole, artist market, imaginary carnival, breakfast at the legion, what else could you ask for?
2017 Line-Up
No BS! Brass Band / Five Alarm Funk / G-Nome Project/ The Elwins / Alysha Brilla / Ben Caplan / After Funk /My Son the Hurricane / Modern Grass / Keith Hallett /Dylan Menzie / The Brood / Earthbound / Kill Chicago/ Big Band of Fun / David in The Dark / Gordon Gets Lost / Jinx The Cat / The Hypochondriacs / The Barrowdowns / Weak Size Fish / OQO / Jacques Mindreau / The Sticky Bandits / Joyful Noise / The Galpines / Max Keenlyside / Jane Blanchard / The Falling Leaves / Jont & the Infinite Possibility /Nebullama / CHiPS / Lemonisco / Koconut Kings / Hum & Hollow / Womb to Tomb / The Montgomery Street Band / Superfluid / Lew Moss & The Lost Cause /Electric Vibes / Våras / Blue Lobella / Guy & Doll /Sound Investments / Sam Astorino / Jerry Faye Flatt /Tommy Knuckles / Foggyswoggle / Wobble Wallah /Betsy White / Daryl & His Boogie Buttons / Isaac /DJCoolTrainerCody / DERB / Merrytime Archivist / Port City Circus
Excited yet? We sure are! Tickets can be bought at www.follyfest.ca.