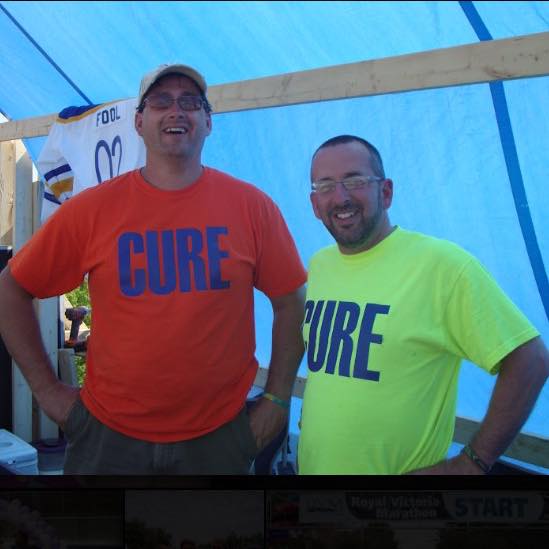 The annual Relay for Life will take place on Saturday June 4th, 2016 from 12 noon to 12 midnight at the Connell Park Raceway, 141 Connell Park Road, in Woodstock.
For the 6th year, Andrew Garnett and Scott Dunlop spent last weekend on the roof of HomeZone Electronics raising money and awareness for Relay for Life. This year their Two Fools on A Roof raised a whopping $23,317! Great job, guys!
For more information about Woodstock's Relay for Life contact Jessica Fitzherbert at 1.800.455.9090 or email jfitzherbert@nb.cancer.ca.
Click here to support the event online.
About Relay for Life
Whether you are cheering on survivors, walking the track, passing the baton to your team mate or joining in exciting trackside activities, Relay For Life is more than just a cancer walk – it's a journey.
"I'm a strong supporter of Relay For Life – I know firsthand what type of impact the money raised can have. The stem cell transplant I underwent as part of my treatment was the result of research funded by the Canadian Cancer Society," says Carrie Walk-Boyd, Hodgkin lymphoma survivor and Relay For Life participant.
Any age or fitness level is welcome – it is up to you how far to push yourself. Whether you want to walk 5 km or 15 km, you will be supporting everyone in your life who has been affected by cancer.
Go the distance and join the thousands of Canadians making a difference for people with cancer and their families!