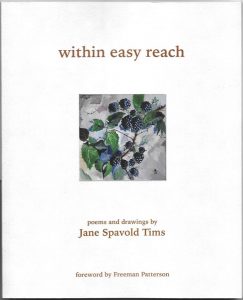 Jane Tims will be reading from her first book of poetry within easy reach on Thursday June 2, 2016 at 6:30 pm at the L.P. Fisher Library in Woodstock. The manuscript for this book won Honourable Mention in the 2013 Writers' Federation of New Brunswick (WFNB) Writing Competition. This year, Jane won the WFNB Alfred G. Bailey Prize for her new manuscript mnemonic.
within easy reach is a collection of poems about gathering local foods. The poems capture the experience of harvesting edible wild plants and foods produced in gardens, orchards, and apiaries. The poems also explore our relationship with nature. They seek to re-establish our connection with nature in the most basic of ways, through growing and gathering our food.
From the Foreword by Freeman Patterson:
Jane Tims' within easy reach is a veritable farmers' market. Her poem-stalls are piled high with organic fruits, berries, vegetables, and other edible plants, with fish, eggs, honey, and maple syrup, all laden with emotion and brimming with nostalgia and sentiment, but never with sentimentality. Every offering evokes a compelling sense of place, the field, forest, or riverbank from whence it came, places where many of us once were fully present and can be again – seeing, hearing, smelling, touching, tasting, and feeling with both our bodies and our souls.
A remarkable observer of details, Jane quietly "tells it like it was." She writes with the uncomplicated perception and wisdom of a child, bringing her experiences from the past into her present and into ours, making yesterday intimately a part of today. In doing this she enables us not only to reminisce, but also to realise that simple, basic joys are always "within easy reach." Her poem "forty years later" is a perfect example.
Jane's poems suggest even more than they actually say. An undercurrent flows through them all – the sense that every plant, every person, and every experience is connected to the whole, the sense of Gaia. This unstated theme of our connectedness to Creation itself is, perhaps, Jane's greatest offering; she causes us to wonder. We pick a bowl of blueberries or a basket of apples with Jane and ponder All That Is.
About Jane Tims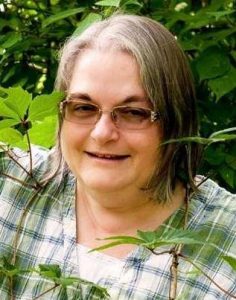 Jane Spavold Tims is a botanist, historian, artist and writer. She was born and raised in southern Alberta and now lives in rural New Brunswick. She obtained her B.Sc. and M.Sc. in biology at Dalhousie University in Halifax and later returned to university to obtain a B.A. in anthropology and history at the University of New Brunswick in Fredericton. During her career she worked in environmental protection, in the fields of air quality, watershed management, and community planning.
Jane writes poetry and fiction and presents her writing, painting and drawings of plants, birds and landscape at www.janetims.com. Her main interests include identifying plants, collecting wild foods, making natural plant dyes and exploring New Brunswick's covered bridges.
within easy reach is published by Chapel Street Editions. Chapel Street Editions publish fine books on the natural history, human history, and cultural life of the Saint John River Region of New Brunswick. For more information visit www.chapelstreeteditions.com.