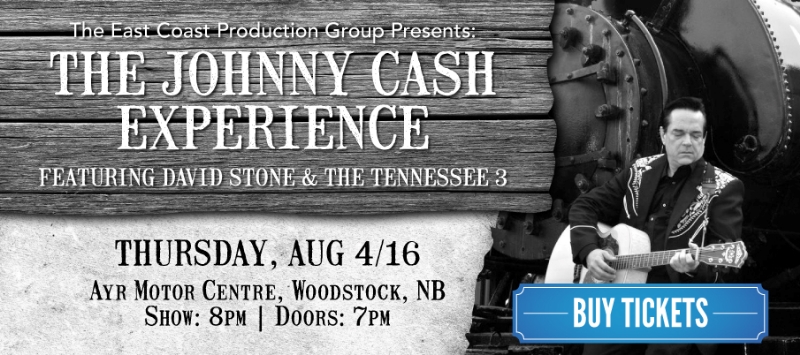 The East Coast Production Group (ECPG) presents the Johnny Cash Experience featuring David Stone and the Tennessee 3 on Thursday August 4, 2016 at the Ayr Motor Centre in Woodstock, NB. Doors open at 7 pm and the show starts at 8 pm.
EARLY BIRD TICKETS ON SALE NOW!
For a limited time and only while quantities last take advantage of the BOGO 50% off EARLY BIRD SPECIAL!
Also, ECPG are proud to offer Child/ Student and Senior pricing at just $20 each! (must provide ID at the time of purchase)
Tickets are available at the Ayr Motor Centre's Reception Desk during regular business hours (formerly known as Woodstock Civic Centre).
Or click here to purchase online.
David Stone: The Johnny Cash Experience featuring the Tennessee 3 is proud to be a part of Woodstock Old Home Week 2016.
Single/ Regular general admission tickets to this all ages event will go on sale July 1st and will be $30 (plus tax/ fee).
Please note that all pricing is in Canadian Dollars and ticket prices do not include tax and service fee.
For more information visit: www.ecpg.ca. Like The East Coast Production Group on Facebook, and follow on Twitter @ECPG_2012.