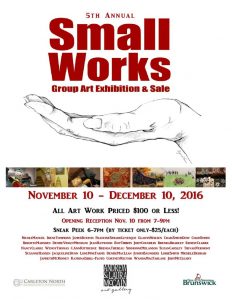 It's the most wonderful time of the year at the Andrew & Laura McCain Art Gallery in Florenceville-Bristol.
Our annual Small Works Group Exhibition and Sale offers hundreds of one-of-a-kind art and fine craft pieces priced under $100 and perfect for holiday gift giving. Over 35 local artists and artisans are participating in this year's Group Exhibition and Sale. With everything from paintings to pottery, baskets to bowls and fine jewellery to felted toys, you will be sure find something extraordinary for everyone on your holiday shopping list including yourself!
As an added bonus, a portion of all sales goes towards supporting the Gallery and art education programming in our community. Small Works is an opportunity to shop local, enjoy a shopping experience like no other and love the gifts you give this holiday season.
The Andrew & Laura McCain Art Gallery invites everyone to the Opening Reception for the Small Works Group Exhibition and Sale on Thursday November 10 from 7-9pm. A limited number of "Sneak Peek" tickets are available for those who want to get in an hour early and shop before everyone else arrives. These tickets can be purchased at the Gallery for $25 with proceeds going towards art education programming.
The Opening Reception is a great opportunity to shop and socialize with some of the local artists and artisans participating in Small Works. Hors d'oeuvres will be served along with some holiday cheer. Everyone is welcome! The Small Works Group Exhibition and Sale will run from Thursday November 10 to Saturday December 10.