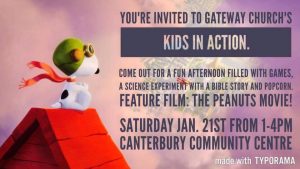 You're invited to Gateway Church's "Kids in Action" on Saturday January 21st, 2017 from 1-4 pm at the Canterbury Community Centre, 22 Mill Street.
Come out for a fun afternoon filled with games, a science experiment with a bible story and popcorn! The Feature Film is The Peanuts Movie.
For more information on this event, contact Gateway Church at 506-279-2157.
Find more special events like this one in The River Valley's Event Calendar. If you have a community event coming up, you can list it FREE of charge!