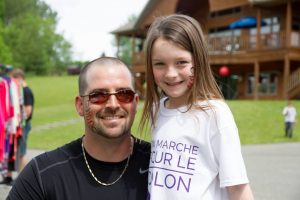 Be GUTSY and join us for a fun filled event at the 22nd Annual Crohn's and Colitis Canada Gutsy Walk in Grand Falls!
Sunday, June 4th, 2017 (Time T.B.A.)
The Marina, 499 McCormick Street, Grand Falls, New Brunswick E3Y 3Z8
1 in 150 Canadians are living with Crohn's disease or ulcerative colitis.
Be inspired by their courage and together, we will make the pain, multiple surgeries, and missed moments stop. For life.
It takes guts to make it stop:
Raise $100 or more and receive a Gutsy Walk T-shirt
Raise $1000 or more and achieve Top Pledge Earner Club status.
Learn more about the Club and the exclusive benefits.
For more information, find us on Facebook