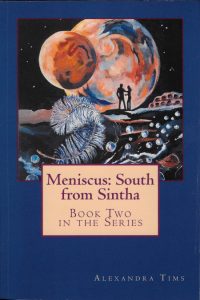 Local author Jane Tims (Alexandra Tims) new book in the Meniscus series … Meniscus: South from Sintha … is now available on Amazon in paperback and Kindle formats! The book follows the continuing story of Odymn and the Slain as they head out on a new adventure and build their relationship with one-another. To purchase the book click here for the paperback and here for the Kindle edition.
On a planet where Humans are slaves, Odymn is free. Her companion, the Slain, was once a trader in sentient beings. Now, for love of Odymn, he has agreed to change his ways and to return his former captives to their homes. Together, he and Odymn travel the urban alleyways and wilderness woodlands of the Southern District of Prell-nan, risking everything. They must battle wild life, outsmart power-hungry Dock-winders and dodge the grasp of ruthless Gel-heads. But in spite of good intentions, will the Slain be able to fix his past misdoings? Or will the consequences of his actions outweigh the good he and Odymn want to do? In the second of the Meniscus series, South from Sintha tells the continuing story of Odymn and the Slain. Odymn loves her silent companion, but trying to help his former victims may be a challenge she did not anticipate. You can try to mend the broken, to right the wrongs of the past, but sometimes you can`t go back.
Jane Tims is a botanist, writer and artist living in rural New Brunswick, Canada. Her first book in the Meniscus series, Meniscus: Crossing The Churn, was published with Amazon in March 2017. She has also published a book of poetry, within easy reach, under the name Jane Spavold Tims (Chapel Street Editions, Woodstock, 2016). In 2016 she won the Alfred G. Bailey Prize in the Writers' Federation of New Brunswick literary competition for her manuscript of poems about bird calls. She is a fan of science fiction — books, television and film, including Star Trek, Stargate and Firefly. Her website features her drawings, paintings and poetry.