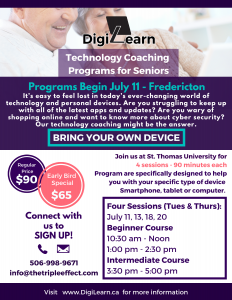 Are you struggling to keep up with the constant changes happening to technology?
Do you have parents who are frequently frustrated by their tech devices; always getting locked out or altering something they can't change back? Many seniors now own computers, tablets and smartphones, but still haven't found a way to easily learn the multitude of features at their fingertips.
That's where we come in! We provide in-person technology coaching classes for groups and individuals on devices such as like smartphones, tablets and computers.
Let us introduce you or your loved one to the possibilities with technology.
Our workshops are delivered in four 90 minute sessions.
July 11th, 13th, 18th and 20th
We offer courses at two levels.
Beginner Courses:
10:30 am – 12:00 pm
1:00 pm – 2:30 pm
Intermediate Course:
3:30 pm – 5:00 pm
All courses will be taking place in room 308 of Margaret Norrie McCain Hall at St. Thomas University.
Four 90 minute workshops for one person – $90.00
Our classroom is fully accessible.
Parking is widely available and completely free of charge.
Free wifi internet will be provided during the course.
Important note: Please bring your own device for the classes.
If you have any questions about anything please feel free to call or email.
Visit www.DigiLearn.ca or call us at (506) 998-9671 to register today!