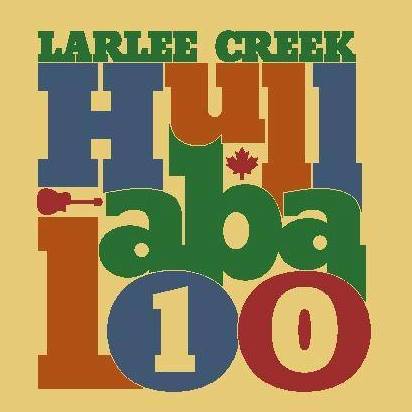 The population of Perth-Andover will more than double over the next five days as music lovers descend on the community to celebrate the 10th anniversary of what has become known as "The Little Festival That Could".
The festival has grown from its humble beginnings in 2007 to what is now, a five-day festival featuring over 30 performances, interactive workshops, children's rock camps, community events and more. The festival includes an extraordinary mix of new up-and-coming, international and legendary artists. This year many notable artists will be returning to help celebrate the 10th edition including JUNO nominee Ria Mae, festival favourite Matt Minglewood and PEI's fiddle sensation Gordie MacKeeman and his Rhythm Boys. Larlee Creek Hullabaloo is also thrilled to welcome for the first time Toronto's indie folk favourites The Wooden Sky, Nova Scotia's rising stars Hillsburn and vocal powerhouse roots/ gospel-style singers Samantha Martin and Delta Sugar, who have been wowing festival crowds across the country.
This year, the festival introduced "Play Our Stage" Contest where emerging artists could submit for a chance to play at Larlee Creek Hullabaloo. Moncton, New Brunswick's Cameron Molloy was the winner for this inaugural event and will open Thursday night's exclusive show featuring Samantha Martin and Delta Sugar. Andrew Waite and the Firm, Christine Campbell, Erin Costelo, Gary Sappier Blues Band, Kendra Gale Band, Morohubu, Pretty Archie, Red Hotdog Express and the Hypochondriacs round out this all-star lineup.
Tonight, the entire community is invited to the Perth-Andover Bandstand for the St. John River Valley Spotlight Series. This free event takes place from 7:00pm to 9:00pm and is the official kick off for the festival. There is something for everyone this weekend including the electric main stage shows, intimate river boat cruises, collaborative workshops, fun and games in the family tent and festival organizers promise a few surprises along the way! Everything wraps up with another festival highlight, Sunday in the Creek, from 11:30 a.m. – 1:30 p.m.  It's an intimate singer-songwriter showcase at the Larlee Creek Baptist Church, featuring several of the stars of the weekend.
As always, there will be a variety of food and artisan vendors on site, and a licensed area for patrons 19 and over.
The three River Cruises are SOLD OUT but weekend and day passes are still available. Passes and tickets will be available online at http://www.larleecreekmusic.ca, by calling 1-877-778-7271 or in person at the Larlee Creek Hullabaloo Box Office located at Baird's Campground.
ABOUT THE LARLEE CREEK HULLABALOO: 
The Larlee Creek Hullabaloo is a not-for-profit outdoor music festival held annually each August in the Village of Perth-Andover, New Brunswick. Their programming consists primarily of Atlantic Canadian musicians, with a marked spotlight on local and regional artists. In a community where very few live performance venues exist for local and regional artists, where citizens often have to leave the area to access and/or support the arts, the Larlee Creek Hullabaloo is deliberately designed to promote the work of local, regional (NB) and Atlantic Canadian artists. Their program reflects the diverse cultural heritage of their communities as expressed through their artist's music, writing and artisanship while creating an occasion for our community to be educated, engaged, participate in and support the arts in their community. For more information visit larleecreekmusic.ca or follow Larlee Creek Hullabaloo on Twitter and Instagram@LCHullabaloo or "like" on Facebook. Join the conversation with #LCH2017 #LCH10 #cantwaittohullabaloo.