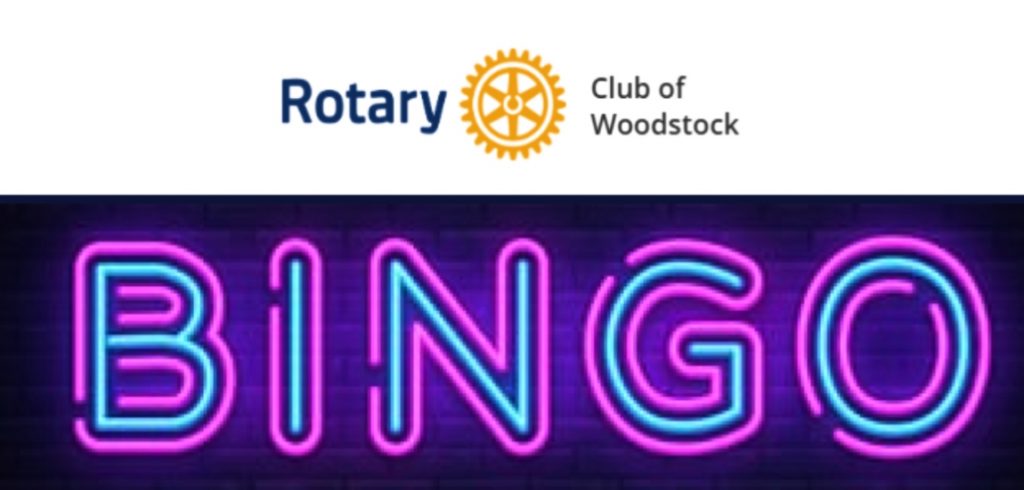 The Rotary Club of Woodstock is pleased to announce some exciting new news for the 2021 year!
Their weekly Wednesday Bingo will now be live streamed on Facebook asides from on Woodstock's Pure Country 104 – CJCJ-FM – 104.1 FM.
Play today for a chance to win over $5000 per week and the Loonie pot is now worth up to $1000 weekly.

Join us every Wednesday evening as Live streaming starts at 7:30 pm, Bingo games start at 8pm to 9pm.
Cards can be picked up at the following locations:

Glassville Convenience
Centreville ValueFoods
Meductic Petro Can
Besthome Hardware – Centreville Road, Florenceville-Bristol
The Corner Store – corner of Broadway and Houlton Road
Murray's Irving – Connell Street
Riverside Court Retirement Residence – Main Street
Bunting's Grocery – Elm Street
Canadian Tire Gas Bar – Connell Road
Maliseet Fuels I – Lower Woodstock Road
Maliseet Fuels II – Trans Canada Highway
Meg's Country Convenience
Mike's RiteStop – Jacksonville
Newnham & Slipp – Main Street
Debec General Store – Debec
Russell's Place – Canterbury
Courtyard Hardware – Downtown Hartland
Coldstream Convenience
Mark's the Spot in Bath
Lakeville Convenience
Florenceville Irving
"Smartstop" in Grafton
Ryan's Pharmacy in Nackawic

For further information, the following are Contacts:
Jon Tait, Kent Orlando, Jeff Bradbury, Terry Thomas
Email Address: wrbingo14@gmail.com and if you got bingo, the winning number to call is 1-506-325-3033.
Proceeds from every bingo will be used for the good of the Community!
Be sure to visit the Rotary Club of Woodstock on the following webpages:
Website – https://rotarywoodstocknb.com/
Twitter – https://twitter.com/woodstockrotary
Facebook – (even our Bingo has it's on Facebook page!) – https://www.facebook.com/rotaryclubofwoodstock/ and https://www.facebook.com/WoodstockRotaryBingo/
Email: woodstocknbrotary@gmail.com


The Rotary Club of Woodstock was chartered by Rotary International on April 22, 1968. Throughout its history, the Rotary Club of Woodstock has been committed to implementing community and international service projects and to encourage and foster:

FIRST. The development of acquaintance as an opportunity for service

SECOND. High ethical standards in business and professions, the recognition of the worthiness of all useful occupations, and the dignifying of each Rotarian's occupation as an opportunity to serve society

THIRD. The application of the ideal of service in each Rotarian's personal, business, and community life

FOURTH. The advancement of international understanding, goodwill, and peace through a world fellowship of business and professional persons united in the ideal of service.

If you would like to learn more about the worldwide organization of Rotary, please visit the "Rotary Links" section at the upper left of this page.

If you are interested in becoming a member of the Rotary Club of Woodstock, feel free to contact any of the current Rotary Club of Woodstock Officers.

Why not help make your community and the world a better place through Rotary!
Find this event on Facebook at: https://www.facebook.com/events/734094957226883/