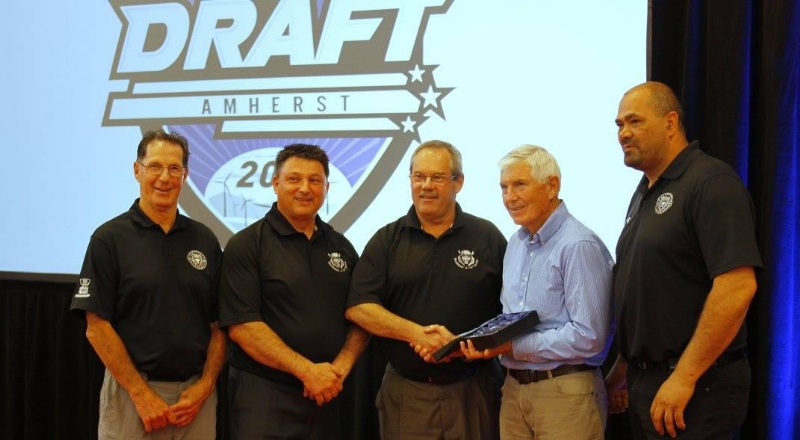 During the MHL Draft on the weekend, the final three awards of the 2015-16 season were handed out.
The Woodstock Slammers organization was recognized as the winners of the Roger Meek Executive of the Year award. This year marks the first time in which the award was presented in honour of the late Mr. Meek. The PEI native played an integral role in the development of the game at numerous levels in his home province, including the Jr.A level, for several decades. The award winning Slammers were consistently in the battle for top spot in the highly competitive MHL overall standings during the regular season, finishing tied for first in points and second overall with a record of 32-10-5-1. While going to great lengths to build a winner on the ice, this club and its hometown then showcased their hospitality off the ice by welcoming some of the top junior players in Eastern Canada to the 2016 Fred Page Cup, an event in which they attracted over 8000 spectators over the course of four days while also reaching the tournament final.
Campbellton Tigers' defenseman Jabes Benedict, earned the MHL Community Spirit Award. The 18 year old from Falmouth, Nova Scotia not only aided his team on ice in their successful push for a playoff spot, he also dedicated his time to such worthwhile causes as the local Rotary Club and its fundraising campaign, the Terry Fox Run and Curl for Cancer just to name a few. Benedict, a rookie last season, also made a strong first impression on the community by volunteering his time to teach skating and basketball at local elementary schools while also working as a security guard at several minor hockey games.
The Moe Bent Builders' award was won by long time Ramblers' executive Walter Maltby. Maltby's name has been synonymous with the game in the Amherst and Cumberland County areas for more than six decades. The first head coach of the Ramblers when they were members of the New Brunswick Junior Hockey League in 1967, Maltby then became the clubs General Manager as they entered what was then known as the Metro-Valley Junior Hockey League, the current MHL, in 1968. Maltby, who has also been active in such worthwhile endeavours as the Salvation Army and VON, has also kept his ties to the Ramblers active as a member of the team's Board of Governors. A 2013 recipient of the Governor General's Medal for Community Service, Maltby is not the only member of his family to have played a part in the rich history of the Ramblers' franchise. His late brother Roy was President of both the Ramblers and the MJAHL (now MHL) while his nephew Stephen, of CIBC Wood Gundy, is the current team's major sponsor.
The MHL congratulates all of its award winners from the 2015-16 season.