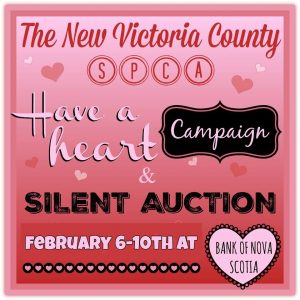 The New Victoria County SPCA is hosting a "Silent Auction" and "Have a Heart" campaign from Monday, February 6th – Friday, February 10th at Scotiabank in Perth-Andover, at 728 Perth Main Street.
We will have many items on display for auction that week, with the bidding ending at 3pm on Feb. 10th.
In addition, for a donation of $1.00 or more, we will display a heart for you at Scotiabank in honor of your valentine, your pets, or whatever you choose.
For donations over $20.00, a tax receipt will be issued.
In late January, you can get a sneak peak of the silent auction items on our Facebook page (https://www.facebook.com/VictoriaCountySpca/).
The best part, Scotiabank has generously offered to match funds raised for that week, making your donation go twice as far!
It's the PURRfect time to make a donation to your local animal shelter!
Find more community events like this one in The River Valley Events Calendar. Add your special event free of charge.