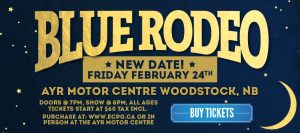 The Blue Rodeo concert originally scheduled for Tuesday, February 21st is now scheduled for Friday, February 24th. Blue Rodeo and The Sadies look forward to the new Friday, February 24th date at the Ayr Motor Centre in Woodstock, NB.
"We are excited to be playing Woodstock on a Friday night" shared Jim Cuddy from the band. "We've never played here before and when the Friday became available in our schedule we jumped at it! We hope it means more folks are free to join us at the show."
To purchase tickets for the Friday show please click the image above, go on-line at ecpg.ca or in person at the Ayr Motor Centre at 105 Connell Park Road, Woodstock, NB. Gold tickets are $75.00, premium tickets are $65.00 and standing tickets are $60.00. All prices include tax and pricing is CAD. On-line purchases are subject to a service/processing fee.
Existing ticket holders should hold onto their original (February 21) concert tickets, which will be honoured for the new February 24, 2017 performance date.
The East Coast Production Group and Blue Rodeo apologize for any inconvenience this change may cause. If ticket holders require a refund they must return to the original point of ticket purchase to do so. Refunds will be available until Friday, February 17, 2017. The Ayr Motor Centre cannot refund tickets that were purchased on-line and vice versa. If your ticket was purchased by telephone and you require a refund, please call 888-732-1682.
Blue Rodeo has sold over 4 million albums, won countless Juno awards, been inducted into the Canadian Music Hall of Fame, received a star on Canada's Walk of Fame, been named to the Order of Canada and have been honoured with the Governor General's Performing Arts Award.
As a special offer for fans attending Blue Rodeo's upcoming Canadian tour, a digital download copy of their new album, '1000 Arms' is included with every ticket. This offer will be redeemed via a promo code at BlueRodeo.com.
Doors open at 7pm with The Sadies beginning at 8 pm.